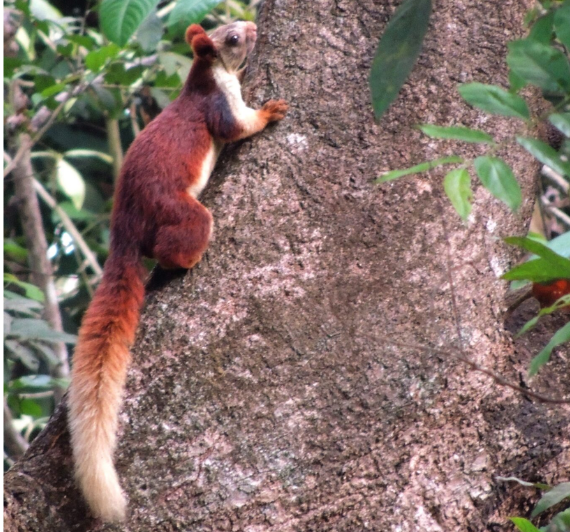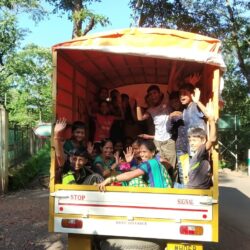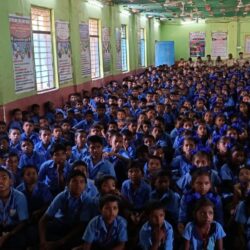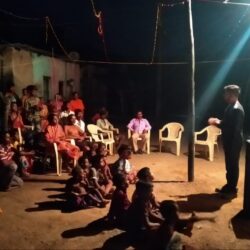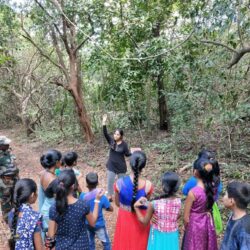 A Nature Awareness Programme by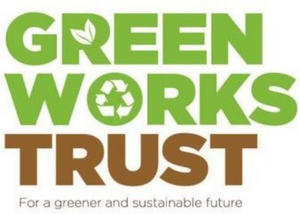 'Green Works Trust' celebrates
Wildlife Week 2019
Started in 1952, the Wildlife Week (WW) is celebrated from 2nd Oct to 8th Oct  every year in order to spread nature education and awareness amongst people.
Green Works Trust (GWT) celebrated Wildlife Week in Mumbai, Pune, Tansa Wildlife Sanctuary and Phansad Wildlife Sanctuary. However, due to the coinciding Semester exams in schools and also Navratri, GWT celebrated an extended WW from 29th Sep to 10th Oct.
GWT's activity-packed Wildlife Week
GWT's presentation on 'Awesome Facts About Wildlife' (AFAW)
GWT conducted informative, interactive and interesting sessions titled 'Awesome Facts About Wildlife'. The GWT team conducted these sessions at various schools and other locations in Mumbai, Pune, Tansa Wildlife Sanctuary and Phansad Wildlife Sanctuary.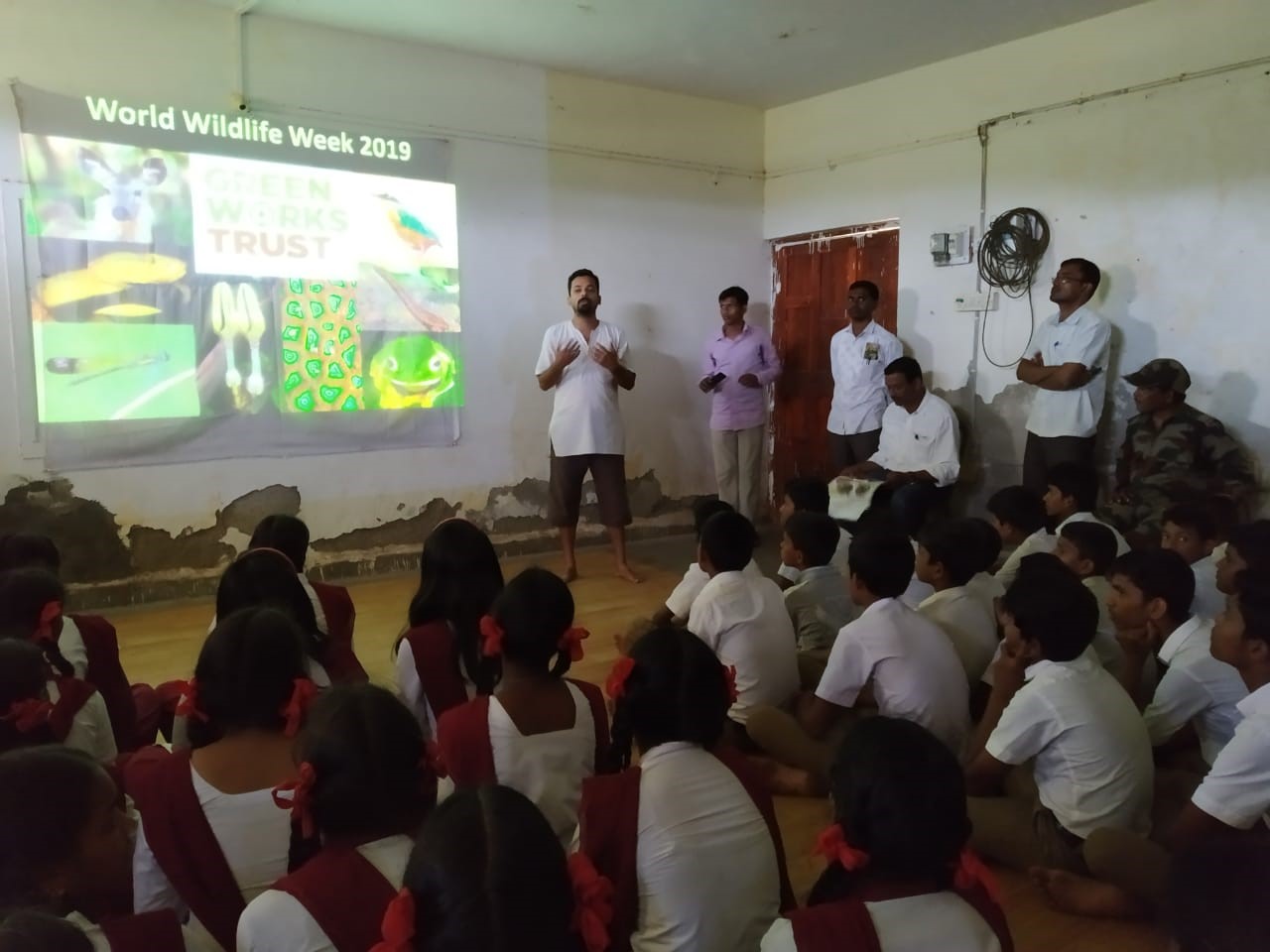 AFAW presentation at Chanere School, Phansad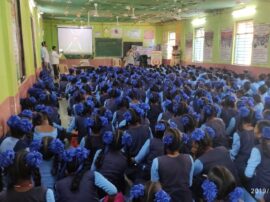 AFAW presentation at Aghai Ashram Shala, Tansa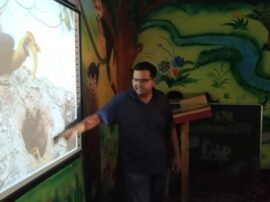 AFAW presentation at ZP School, Bahuli, Pune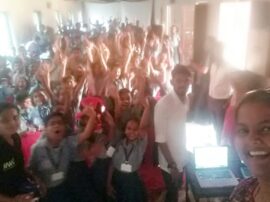 AFAW presentation at Chogle High School, Mumbai
Before the WW began, Nikhil Bhopale and Sagar Satpute had trained 30 volunteers to conduct the AFAW sessions in Mumbai and Pune and work as
an extended GWT team.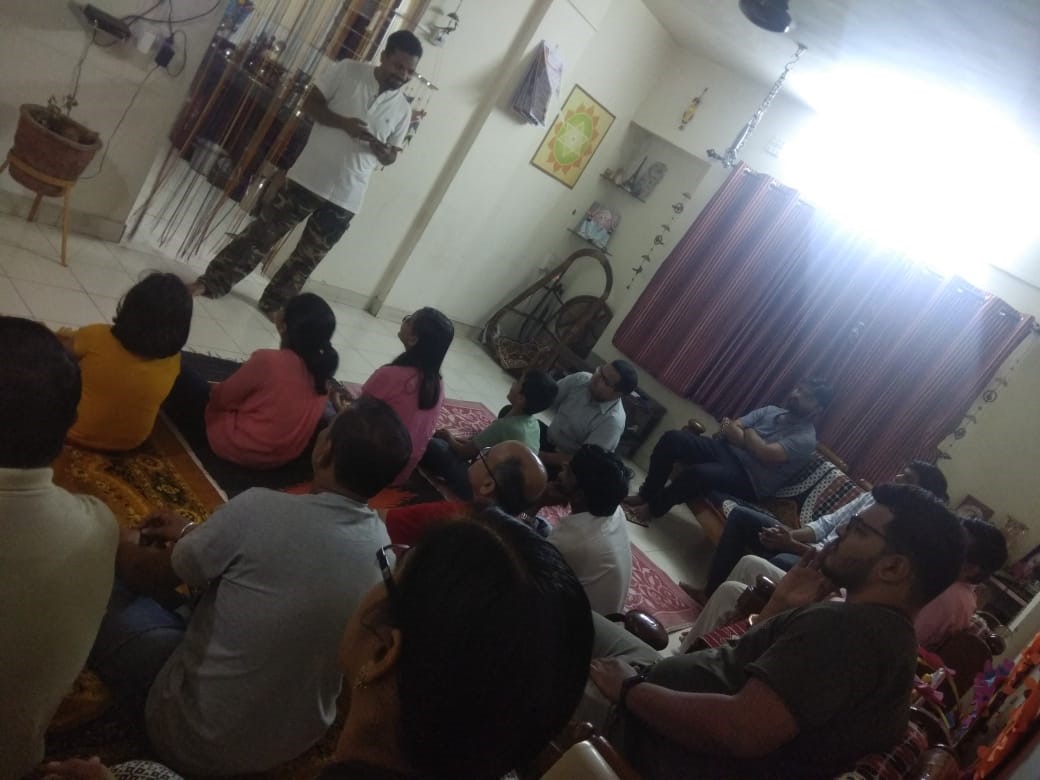 Nikhil Bhopale trains volunteers at a Pune residence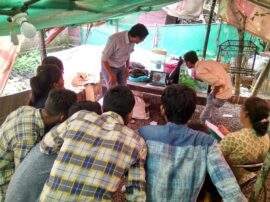 Sagar Satpute conducts Volunteer Training session at WWA's Animal Transit Centre in Thane
Celebrations at Supegaon
The WW was celebrated with the children of Supegaon, which is located on the periphery of Phansad Wildlife Sanctuary. A variety of activities like drawing competition, wildlife photography exhibition and nature games were organized for these children. A nature trail was also conducted so that the children could experience nature firsthand. At the end of this 5-day-long programme, all children were presented with participation certificates and a booklet on birds titled 'Birds of Maharashtra'.  Prizes were also distributed to winners of the competition.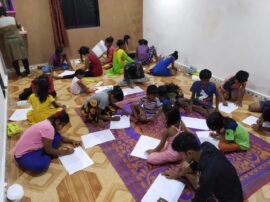 Drawing Competition at Supegoan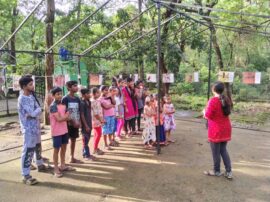 Gargi Geedh briefs children at the Wildlife Photography Exhibition displayed at Supegoan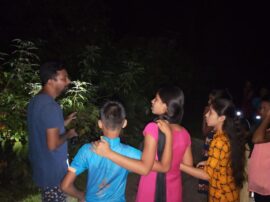 Night Nature Trail for Supegoan children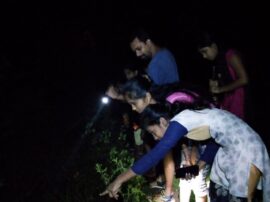 Snake Awareness sessions at Adivasi paadas
The GWT team visited adivaasi paadas near the Phansad Wildlife Sanctuary and conducted informative sessions about commonly found snakes in Phansad. An important issue of snake bites was addressed in these sessions. The team also distributed posters, which explained how to identify venomous snakes found in their surroundings.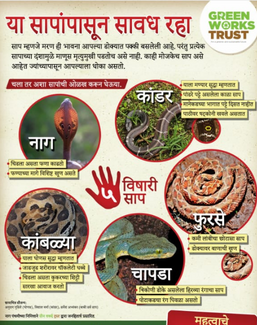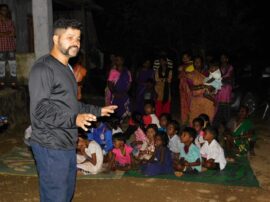 Vaibhav Patwardhan talks to adivasis about snake bites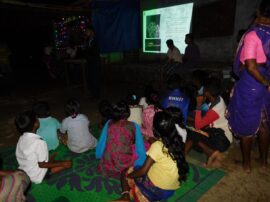 Snake awareness session at Vave Adivasi Paada
Celebrations in villages around Phansad Wildlife Sanctuary
GWT has been conducting nature awareness sessions in select 5 villages around the Sanctuary. The children in these villages wanted to experience the forest that surrounded them. Hence GWT conducted a nature trail for 80 children from these villages along with 20 parents who ventured into the forest of the Phansad Wildlife Sanctuary.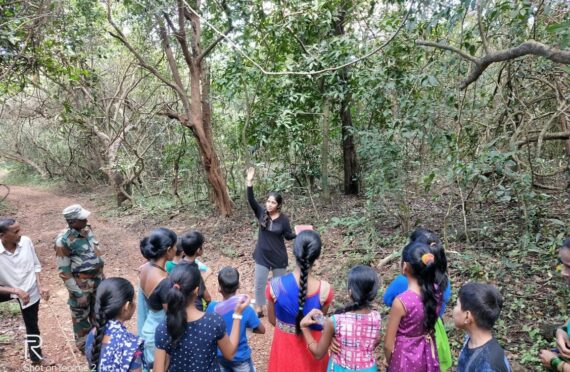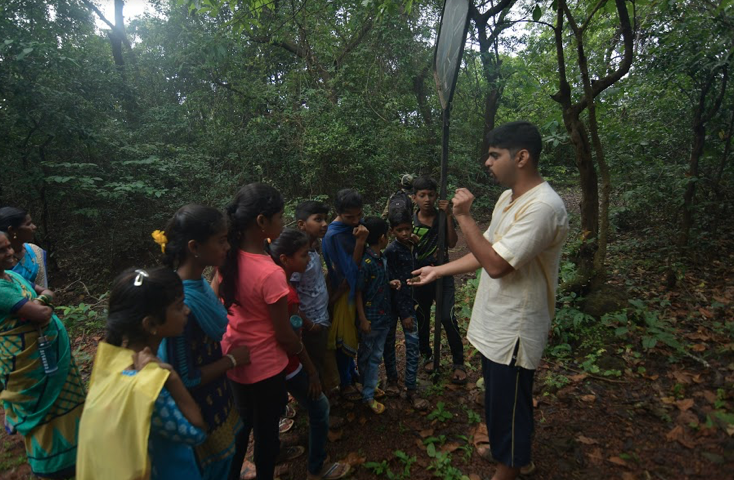 Nature Trail inside Phansad Wildlife Sanctuary for the children of nearby villages- Amli, Shirgaon, Tale,
Parangkhar and Kajuwadi, conducted by GWT's Sarvesh Abhyankar, Vaibhav Patwardhan,
Gargi Geedh and Nikhil Bhopale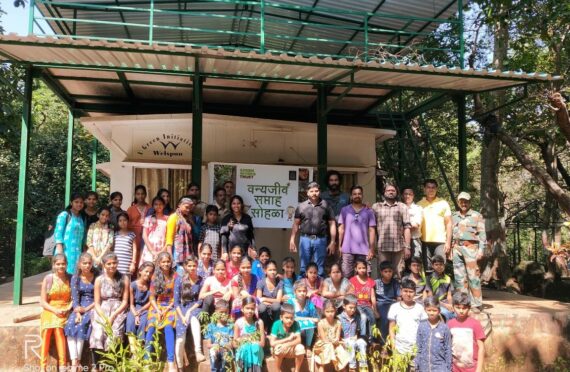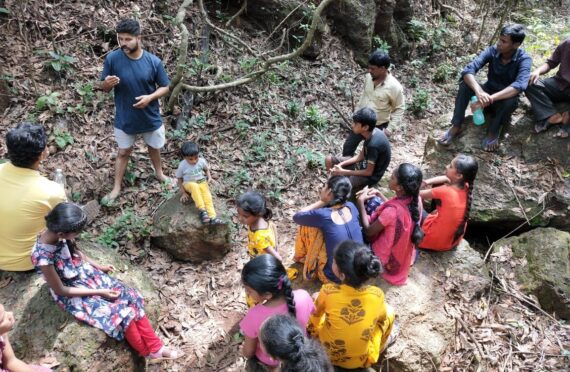 Sensitisation session for Forest Department staff
GWT conducted a session on 'No Playback Policy' (NPP) to sensitise the Forest Department staff about the unethical practice of using playbacks. The session also covered various other aspects of unethical photography. Illustrated boards were provided to aid the implementation of NPP. The staff was highly sensitized towards their contribution in successful implementation of the 'No Playback Policy' in Tansa.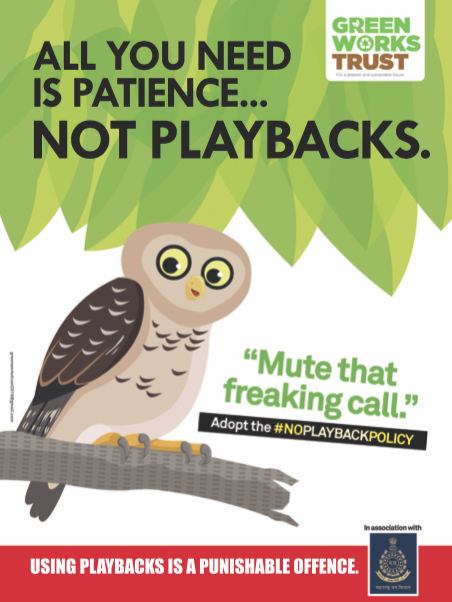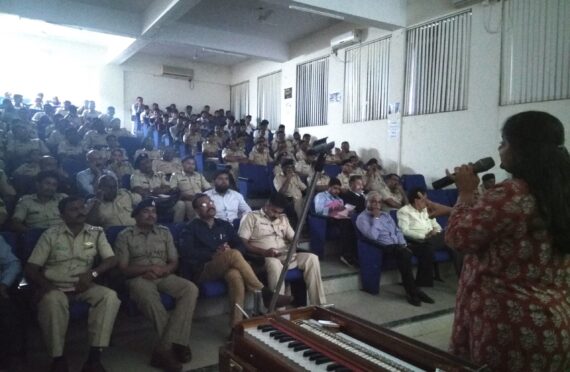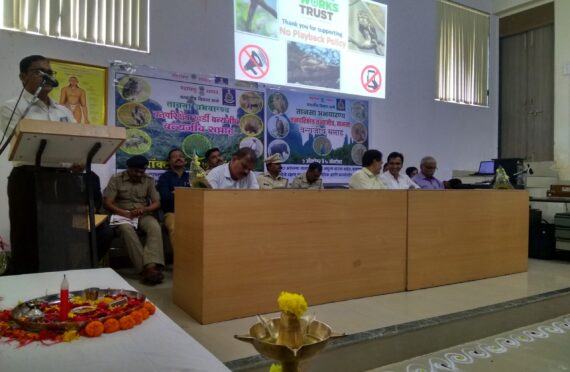 Krupa Patil addresses Forest Department staff during a session about 'No Playback Policy' at Atma Malik School hall.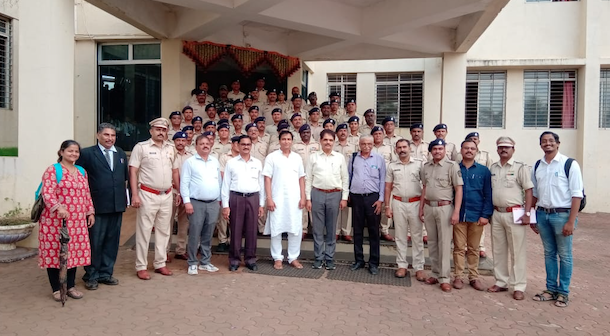 GWT's Sagar Satpute and Krupa Patil with the Forest Department team- DCF Mhase, ACF Mate, RFO Channe, RFO Thakur, RFO Sanap and Officers and Forest Guards from Tansa, Khardi, Parali and Upper Vaitarna ranges in Tansa Wildlife Sanctuary.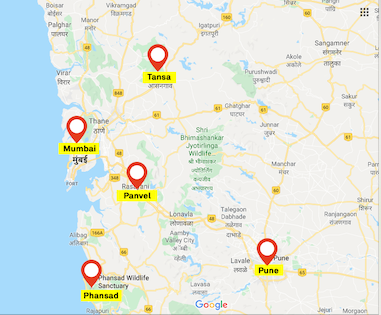 GWT's reach
Locations:
Mumbai, Panvel, Pune,
Phansad Wildlife Sanctuary and Tansa Wildlife Sanctuary
Audiences:
2900+ Students, 120 Villagers, 267 Adivaasis, 100 Forest Department staff. GWT also reached out to places like corporate offices and ladies hostel.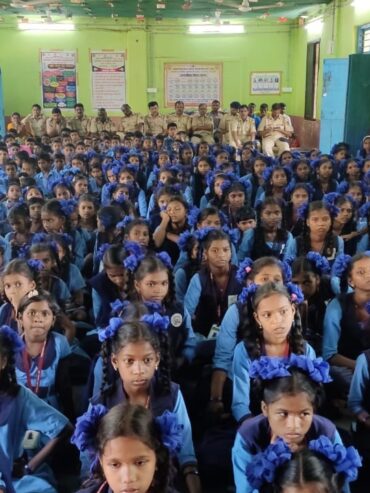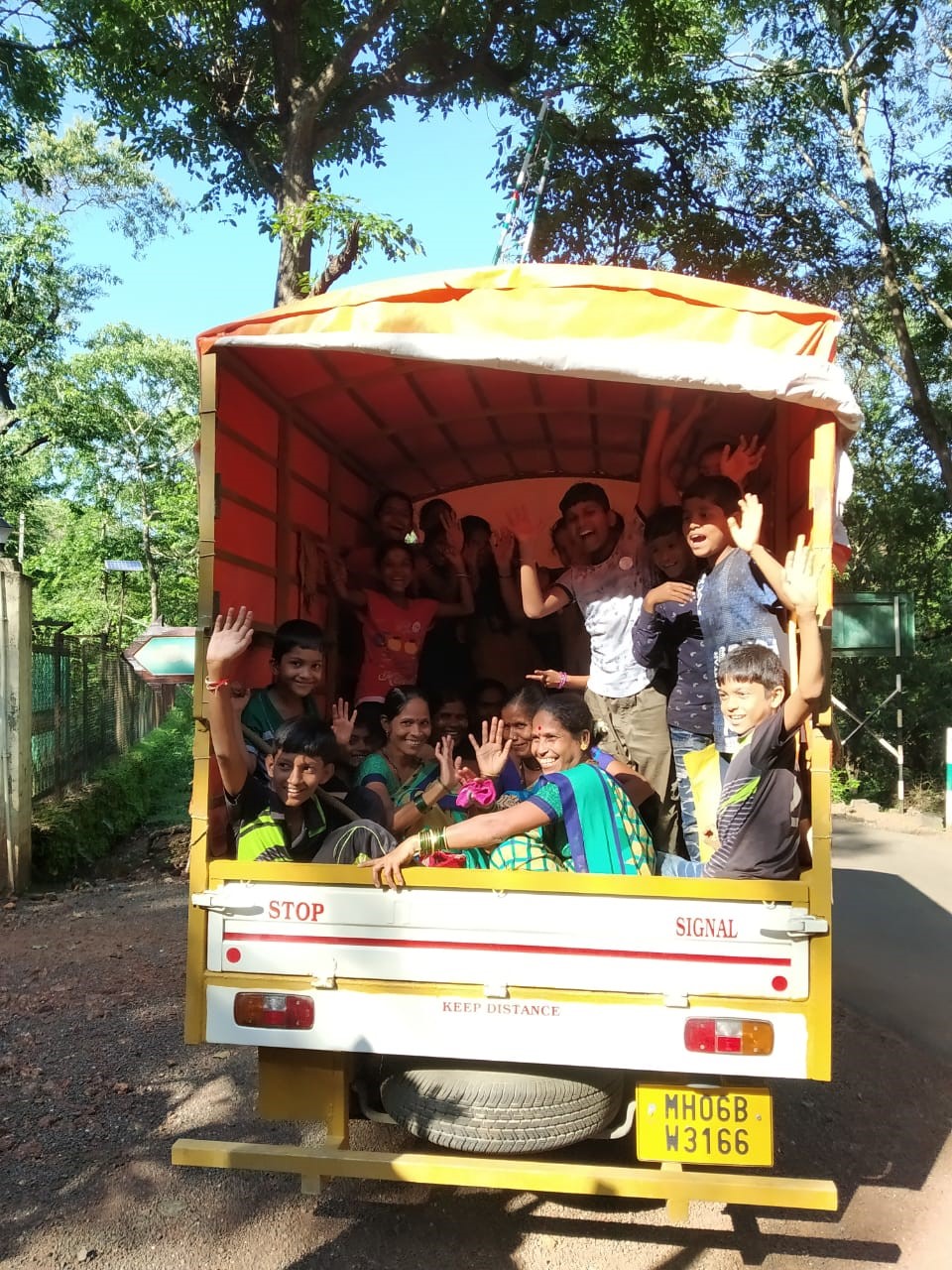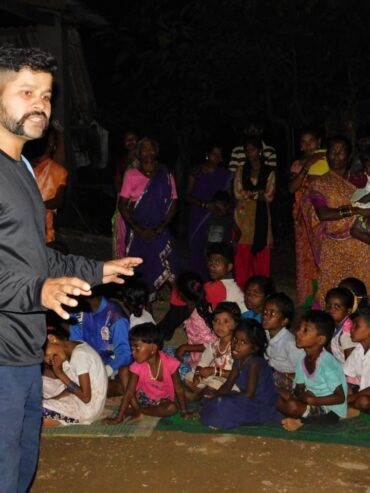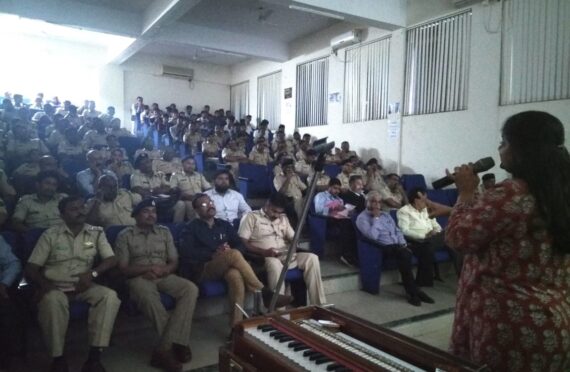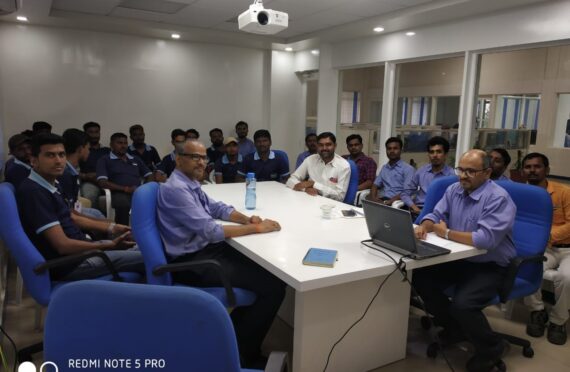 Sincere thanks for your kind support
Chetan Sheth, Nita Mehta, Nisha Mulchandani, Jayashree Iyer, Geetha Mahadevan, Kunal Bhale, Vijayalakshmi, Darshan Khamkar, Suman Kumar Raju Rudraraju, Janhavi Vartak, Jayraj Nayak, Puspendra Kumar, Sayali Ganesh, Nitu Sethi, Galiakotwala & Co. Pvt. Ltd, Daksha Desai, Meraki Enterprises, Machine Tech, Metalica Aliance Co., Tech Sales & Services, Maitreyi Matpadi Ram, Bhavin Saraiyya, Dr. Molina Khanna, Suhas Apte, Mukul Dashputre, Nitin Patel
Support from the System
Green Works Trust's Wildlife Week wouldn't have been possible without the support from the Maharashtra Vann Vibhaag. GWT is thankful to the Forest Department and all officials for supporting, encouraging and appreciating
GWT's work during the Wildlife Week.
Here are a few testimonials: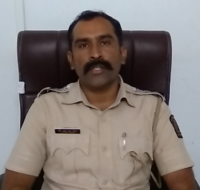 "Schools in Tansa have a large population of adivasi students. Green Works Trust helped in reducing the fear about snakes from the minds of these students. Their sessions also helped in clearing the misconceptions and blind faiths about snakes. Green Works Trust conducted special sessions about wildlife and also explained the importance of the food chain."
– Shri Sanjay Channe, RFO-Tansa, Tansa Wildlife Sanctuary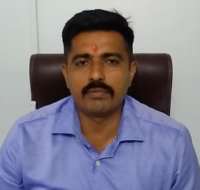 "The sessions conducted by the team of Green Works Trust about wildlife gave us awesome information about wildlife. It was given in a very interesting way for all students of schools and colleges."
– Shri Darshan Thakur, RFO-Khardi, Tansa Wildlife Sanctuary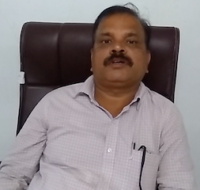 "Green Works Trust conducted highly informative sessions about wildlife, which created curiosity and interest in the students' minds. The students were amazed and gave overwhelming responses to the sessions. These students will surely grow up to be sensitive citizens towards wildlife and forests. A few of them also showed interest in working for the Forest Department in future."
– Shri Deepak Mate, ACF-Tansa Widlife Sanctuary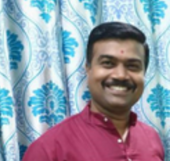 "I appreciate the efforts of Green Works Trust to visit adivasi paadas and conduct awareness activities at late hours in the evenings. They managed to reach out the concept of conservation in these padaas."
– Shri Pradeep Chavhan, ACF- Phansad Widlife Sanctuary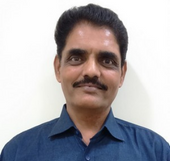 "The contribution of Green Works Trust to the Wildlife Week this year is worth a mention. The team did a great job of creating awareness. It is important to understand the importance of awareness. And they did awareness where it is needed the most- in adivasi paadas and ashram shaalas. I give them my wishes and support for their future work and hope they will keep doing awareness activities."
– Shri Arjun Mhase, DCF- Widlife
Special mention:  Sincere and heartfelt thanks to APCCF Shri Sunil Limaye.
We are so grateful to him for his encouragement, spontaneous support
and timely guidance to the GWT team.
GWT's Team
Team Phansad
Gargi Geedh, Sarvesh Abhyankar, Vaibhav Patwardhan, Nikhil Bhopale
Local coordinators – Nilesh Gund, Pranav Pradeep Bagwe
Volunteers – Sumeet More, Jayraj Nayak
OWLS Volunteer – Kunal Salunke
Team Tansa
Sagar Satpute, Krupa Patil
Volunteer – Jayraj Nayak
Team Mumbai and Panvel
Deepali Bhopale, Krupa Patil
Volunteer – Swati Athalye
WWA Volunteers – Ashish Salunke, Shaila Kaluse
Team Pune
Rupali Naik, Chaitanya Kapade
Volunteers – Pranav Joshi, Yogesh Mungi, Sameer Deshpande, Abhishek Mane
WWA Volunteer – Aditya Patil
Special Thanks – Vaibhav Pore Sir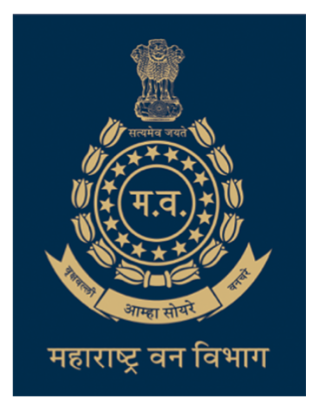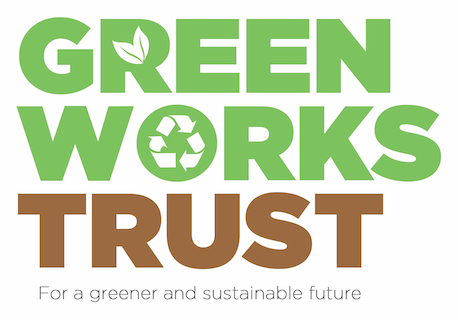 Address: A-101, Poonam Jewel, Poonam Nagar, Sardar Vallabhbhai Patel Marg,
Off Mahakali Caves Road, Near JVLR, Andheri East, Mumbai 400093.
Email: [email protected]